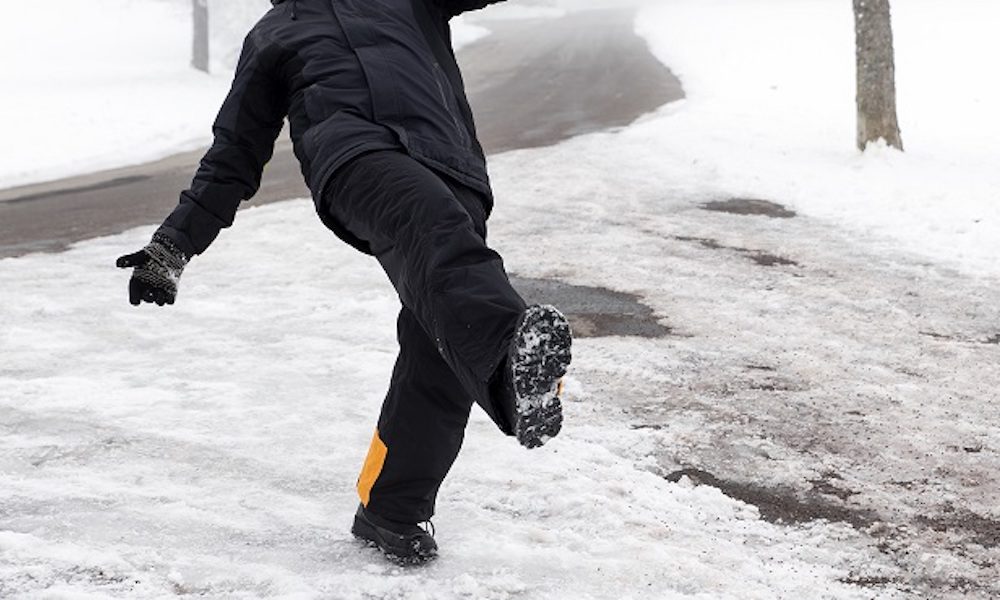 In non-pandemic times, my neighbor Drew has flowers sent to his wife at work every Valentine's day.  This year we're all working from home so there's no office to send the flowers to, but Drew couldn't let his tradition pass by.  He called up a local florist and had a delivery arranged for 10 am on Feb 14th to his home…. now his wife's "office".  Unfortunately, two days before the scheduled delivery, we were hit with 9 inches of fresh snow/freezing rain.  Drew had a pretty busy week, so he figured he'd just wait until the weekend to clear the driveway and walkway to his front door – forgetting about the flowers that were coming for his wife on Valentine's day.   The flower delivery man arrived promptly at 10am, and just as he was about to reach Drew's doorstep…. BAM. He slipped and fell on some black ice and scattered the roses all over the front porch.  Drew's wife Erin heard the commotion and went out to see what was happening. She offered to help clean up the flower mess and the delivery man insisted he was okay.  However, later that evening, Drew got a call from an attorney saying he was being named in a slip and fall lawsuit. 
Was Drew responsible for the delivery man's accident?  Could this have been prevented?  Is this covered under Drew's homeowner's insurance? If so, is it covered under liability coverage or medical coverage? Which type of coverage helps offset the legal costs?
On average about 2 out of every 10 people file an injury claim at some point in their lives.  Injuries in and around the home are common occurrences. .  As a property owner, you are responsible for maintaining a safe environment…within reason.  For instance, you can't reasonably be expected to be outside at 2:00 a.m. with a snow shovel and salt thrower to remove ice as soon as it comes down. However, most cities have ordinances requiring removal within a set number of hours at the end of a snow or ice event. That means that if the slip and fall occurs within those covered hours, the onus is on the person visiting the home or walking on the sidewalk to use caution However, if you haven't removed the snow by the time the ordinance stipulates, you could be found negligent and held legally responsible for any injuries. .
Other examples of potential walkway hazards that could lead to homeowner's negligence lawsuit include:
Ice that melts then refreezes
Children's toys
Dog bones or toys

 

Fallen tree branches
Large rocks

 
The bottom line is the only way to control the uncontrollable is to have the right insurance coverage to ensure you are covered no matter what the circumstance. 
In the above example, the flower delivery person has every right to try and sue Drew. Whether or not he'll be held accountable for this accident largely depends on the assessment of liability. In a situation like this, having homeowner's insurance or renter's insurance is an absolute necessity to prevent being held personally liable for a large medical or injury settlement. Both types of coverage usually pay for most, if not all, attorney fees to defend against liability claims for the injuries beyond what is covered by insurance.
There is little you can do to prevent a lawsuit from taking place if someone such as a guest, stranger or contractor slips and falls on your property.  However, you CAN make sure your homeowner's insurance policy provides adequate protection for slips and falls at your home. Speak with your agent to help you evaluate the risks and decide what limits are right for you homeowner's insurance. Remember, it is important to re-evaluate these limits every few years. 
If you do get sued or are threatened with a lawsuit, notify your insurance agent immediately even if you don't think you are at fault.  Your agent is an expert in the terms of your policy and will respond on your behalf. He/she and is trained to know how to best address the issue. A situation like this is exactly the reason you bought insurance in the first place: to pay and claims or judgments for which you are legally obligated and to provide for an attorney to represent you! Leave it to the experts – they'll know what to do. 
Here are some important things to keep in mind when it comes to slips and falls and your home insurance policy:
Your homeowner's policy has two parts: liability and medical payments. Medical payments are often a no-fault coverage – meaning whether you're at fault or not, the injured party is covered according to the limits which are usually $5,000.

 

However, the injured party has to prove negligence and unsafe conditions on the property to be paid out for the liability portion of the claim.

 

You are still open to getting sued after a settlement is reached if the injured party does not feel he or she got proper compensation.

 

Make sure your sidewalks are in good shape – clear of any debris, rocks, snow, and ice.

 

You cannot file a claim if you get hurt on your own property.
Your homeowner's policy (even renter's insurance) will provide your legal defense in the case that you are sued.
______________________________
ABOUT EAB INSURANCE GROUP: EAB Insurance Group is a family-owned business started in 1950 in Green Brook, NJ by a husband and wife with the humble philosophy that if you treat staff and customers with dignity and always do the right thing, success will follow. It's an approach that has served us well for 70 years. Though we have grown to provide insurance solutions nationwide and have access to the largest underwriters, our culture of respect and personal service is exactly the same. EAB Insurance Group can provide access to a diverse set of insurance products including homeowner, auto or renter's insurance, umbrella insurance, commercial liability insurance, ATV Insurance, motorcycle and boat insurance, workers compensation coverage, contractor liability Insurance, life insurance, professional liability insurance and specialized insurance packages for various industries.